DON'T GIVE UP ON YOUR DOG! CALL TODAY!
Various individualized methods of training used to obtain Healthy Acceptable Behavior. Serving Bucks, Montgomery, and Lehigh County.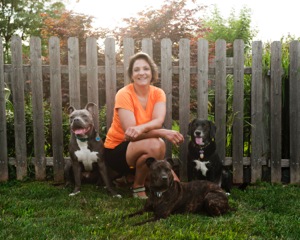 About Laura A. Sobolusky
Owner/Trainer
After years of volunteering and fostering for a local animal rescue, I saw the need for behavioral modification in many dogs. Behavioral issues are the number one reason dogs end up in shelters and unfortunately, in some cases are euthanized. It was this experience that motivated me to become a Certified Dog Trainer. I became certified through Animal Behavior College and continue my education by attending seminars and lectures from the most respected trainers and animal behavior specialists. In doing so I can help more animals remain in their homes.
Mission Statement
The goal at REHAB Dog Training is to Rehabilitate your dog and to Educate dog owners on methods to obtain Healthy Acceptable Behavior.
I believe that a well-balanced dog is a healthy dog. I can help you reach your dogs potential by providing the help and answers you need with compassion and understanding that your dog deserves. I will assess your dog's behavior and introduce your dog to a structured program that will help resolve the issues you are experiencing so that you can have a happy and harmonious relationship. Patience, persistence, consistency and proper techniques are integral to the success of your dogs training.
One of the main reasons dogs end up in shelters is due to behavioral issues that have not been addressed. Puppies are cute but then they grow up and become "Teenagers". Along with this growth comes the mischievous behavior that if not handled in a timely manner or if handled incorrectly can be the demise of your pet. After the teenage stage comes the "Adulthood" stage where your dog comes into their own. If you have a structured training program in place this transition will occur with little to no evidence. If not you may see things like an "Alpha" behavior or aggressive behavior towards other dogs as well as humans as they try to establish leadership.
I can show you what you will need to do to fix the issues that you are having with your dog including jumping, mouthing, barking, bolting, aggressive tendencies, resource guarding or any number of issues that you may deem inappropriate.
Success is achieved when dogs and their humans can live together in harmony. By doing so it reduces the number of dogs that are turned into shelters or re-homed. In 2012 over a million adoptable dogs were euthanized in the United States which could have been prevented through proper education and training. REHAB Dog Training would like to help become a part of reducing that number. I can help more dogs remain in their homes by teaching them proper manners and in doing so will have achieved that goal. I have been successful with many dogs because of the tools that I utilized. With a structured program including foundation work I can help you alleviate the issues that you are experiencing with your dog.
Serving Bucks, Montgomery, and Lehigh Counties, Pennsylvania.